Check out


Other places to find Anne.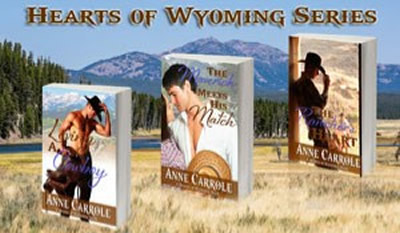 The Rancher's Heart

Book 3

A feud reminiscent of the Hatfields and McCoys, a love story worthy of Romeo and Juliet

In spite of growing up on the Pleasant Valley ranch, single mom Cat McKenna doesn't know a thing about cattle. But even with her preference for high heels instead of cowboy boots, she's determined to save the family ranch she inherited for her son. She just needs to hire the right foreman to guide her. Neighboring rancher, handsome Cody Taylor, might be perfect for the job, even though their families have been feuding over land and water for generations.

Living in the shadow of the wealthier McKenna ranch has never been easy for the Taylors. But buried under a mountain of debt after his late father's illness, the only way out for Cody may be to accept Cat McKenna's job offer.

Can Cody keep his pride and ranch intact while helping the one family in all of Wyoming that's the sworn enemy of the Taylors...and the one woman in Wyoming who is capable of stealing not only his land, but his rancher's heart?
Available now in the Hearts of Wyoming series
| | |
| --- | --- |
| Hearts of Wyoming Book 1 | Hearts of Wyoming Book 2 |
| | |
| | |
NEW HISTORICAL WESTERN ROMANCE
Eight Romantic Adventures in the Wild West

When Love Comes Calling in Journey of the Heart

Becoming a Harvey Girl has been a lifesaver for homeless Callie Rhinehart. Working in the Harvey House Restaurants has provided a roof over her head, the security of decent pay, and a path for a respectable career. When handsome widow Frank Sutton sits at her counter with a little boy in need of a mother, Callie's carefully laid plans are threatened. But despite her growing feelings for the rancher, can she risk giving up her career for a marriage of mere convenience and leave her future in the hands of any man? It's the 1880's after all.


It's true that Frank originally pursued Callie because he needed a mother for his child, but he's fallen in love with her independent spirit. Competing with another man for her affections is one thing, competing with the Harvey Company is proving to be quite another.